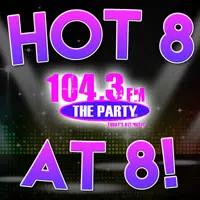 It's the first Throwback Thursday of 2018!!!! Welcome in to your January 4th edition of the Hot 8@8 Countdown with Smoky's House BBQ in Charleston all part of The Night Club with Carman! It's a new year, but we're still going to reverse a song backwards for Pop Culture Trivia! So far this week #1 has belonged to G-Eazy feat. Halsey with "Him & I" can they go 3 nights tonight?
1. "Him & I" – G-Eazy & Halsey
2. "One Foot" – Walk the Moon
3. "Best Friend" – Sofi Tucker feat. NERVO, The Knocks, & Alisa Ueno
4. "Mic Drop" – BTS feat. Desiigner
5. " Feels Great" – Cheat Codes feat. Fetty Wap
6. "Beautiful Trauma" – Pink
7. "Love" – Kendrick Lamar
8. "A Little Work" – Fergie
The couple is on a roll starting off the new year! They are topping the show once more. Please remember weeknights your votes can help decide where the songs fall on the show. Vote by either calling 217-844-HITS, texting 217-218-0288, or by leaving your vote at The Party's Facebook Page!