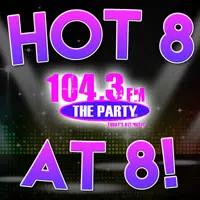 Happy Monday! Hope you had a great weekend and now that it's back to another work week, once more it's time for The Hot 8@8 Countdown with Smoky's House BBQ in Charleston all part of the Night Club with Carman! A little Monday night refresher from where we left things on Friday night…for the 4th time in a row G-Eazy & Halsey held onto the top spot with "Him & I", so far the only song to be #1 for 2018…what will happen tonight? Check out the results…..
1. "Him & I" – G-Eazy feat. Halsey
2. "One Foot" – Walk the Moon
3. "Mic Drop" – BTS feat. Desiigner
4. "Love" – Kendrick Lamar
5. "Best Friend" – Sofi Tucker feat. NERVO, The Knocks, & Alisa Ueno
6. "A Little Work" – Fergie
7. "Filthy" – Justin Timberlake (Debut!)
8. "Beautiful Trauma" – Pink
That makes it 5 nights and counting now for G-Eazy & Halsey, so far they are unstoppable, you have the power to help decide the outcome weeknights with the countdown. Please remember to vote weeknights from 5-7:30 p.m. CDT by either calling 217-844-HITS, texting 217-218-0288, or by leaving your vote at The Party's Facebook Page!