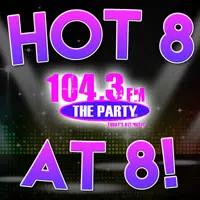 Happy Tuesday, January 9th and welcome back to The Night Club with Carman! Once more it's time for the Hot 8@8 Countdown with Smoky's House BBQ in Charleston, and so far the only song to be #1 for 2018 has been "Him & I" from G-Eazy & Halsey. Will the couple go a 6th night in a row tonight at the top? See what  your votes helped decide and also tonight one new entry too!
1. "Him & I" – G-Eazy feat. Halsey
2. "One Foot" – Walk the Moon
3. "Love" – Kendrick Lamar
4. "Mic Drop" – BTS feat. Desiigner
5. "A Little Work" – Fergie
6. "Filthy" – Justin Timberlake
7. "Beautiful Trauma" – Pink
8. "River" – Eminem feat. Ed Sheeran (Debut!)
A debut from Eminem & Ed, a move for JT, and a 6th night at #1 for G-Eazy & Halsey! Anything can happen weeknights with the show when you help decide, so please remember to cast a quick vote weeknights from 5-7:30 p.m. CDT. Call 217-844-HITS, text 217-218-0288, or leave your vote at the Party's Social Media pages!