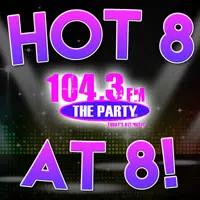 It's a new week, Happy Monday!!! Hope you enjoyed the weekend and once more here in the Night Club with Carman another round of the Hot 8@8 Countdown with Smoky's House BBQ in Charleston!!! A Monday night refresher from where we left the show on Friday night…for the 9th time "Him & I" from G-Eazy and Halsey held onto the top spot….check out to see what you helped decide tonight!
1. "Filthy" – Justin Timberlake
2. "Him & I" – G-Eazy feat. Halsey
3. "Love" – Kendrick Lamar
4. "Finesse" – Bruno Mars feat. Cardi B
5. "River" – Eminem feat. Ed Sheeran
6. "One Foot" – Walk the Moon
7. "Mic Drop" – BTS feat. Desiigner
8. "Tell Me You Love Me" – Demi Lovato  (Debut!)
Demi debuts with her latest, Bruno Mars and Cardi B had a huge 4 spot leap, and to top it off…a Brand New #1 Song!!!! Justin Timberlake is back with "Filthy" moving up 3 spots tonight from Friday to take over the #1 spot! JT starts the week strong, but can he maintain that strength all week? Be sure to vote once more tomorrow from 5-7:30 p.m. CDT. Call 217-844-HITS, text 217-218-0288, or leave your vote at The Party's Facebook Page!