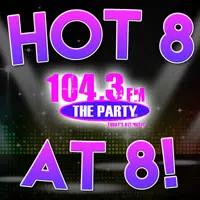 It's Throwback Thursday!!! Welcome back to anther "old school" edition of the Hot 8@8 Countdown with Smoky's House BBQ in Charleston for we will have a retro-rewind track backwards for Pop Culture Trivia with Smoky's House BBQ in Charleston! First we got to reveal what songs you can't stop listening to…and this week the top song has been JT with "Filthy"…check out where he lands tonight!
1. "Filthy" – Justin Timberlake
2. "Finesse" – Bruno Mars feat. Cardi B
3. "Love" – Kendrick Lamar
4. "River" – Eminem feat. Ed Sheeran
5. "Never Be the Same" – Camila Cabello
6. "Tell Me You Love Me" – Demi Lovato
7. "Him & I" – G-Eazy feat. Halsey
8. "A Little Work" – Fergie (Re-Entry!)
Fergie making a comeback tonight, a big leap for Camila Cabello, Bruno and Cardi B are closing in on the top spot, however it's still Justin's game….that marks 4 nights in a row for him now with his latest! Please remember, weeknights you can help decide the outcome from 5-7:30 p.m. CDT by either calling 217-844-HITS, texting 217-218-0288, or leaving your vote at our Party's Social Media Pages!