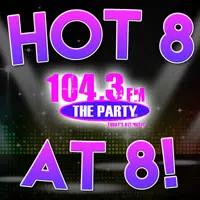 Finally it's Friday!!! Another week gone and kicking off the weekend your final Hot 8@8 Countdown with Smoky's House BBQ in Charleston for the week of January 15th through the 19th here in The Night Club with Carman! Now this week Justin Timberlake managed to take down G-Eazy and Halsey and claim our top spot for the past 4 nights, will he go a week solid? Burno and Cardi B have also been a fast riser, so see what you helped decide for your Friday night show!!!
1. "Filthy" – Justin Timberlake
2. "Finesse" – Bruno Mars feat. Cardi B
3. "River" – Eminem feat. Ed Sheeran
4. "Love" – Kendrick Lamar
5. "Tell Me You Love Me" – Demi Lovato
6. "Never Be the Same" – Camila Cabello
7. "A Little Work" – Fergie
8. "Him & I" – G-Eazy feat. Halsey
JT goes a week solid, but plenty of songs are closely behind….Weeknights you have a say in how the songs land on the show. Please be sure to cast a vote Monday through Friday from 5-7:30 p.m. CDT by either calling 217-844-HITS, texting 217-218-0288, or by leaving your vote at The Party's Facebook Page!