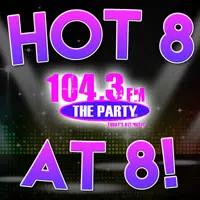 Hope everyone had a fantastic weekend, happy Monday, and welcome back to The Night Club with Carman!!! A new week and tonight a new week of the Hot 8@8 Countdown with Smoky's House BBQ in Charleston starts now! Now last week, Justin Timberlake was dominate with "Filthy" however, Bruno Mars and Cardi B was not too far behind. Also last week we saw strong entries on the show for Demi Lovato and Camila Cabello too….check out what you helped decide for your Monday night show below!
1. "Finesse" – Bruno Mars feat. Cardi B
2. "Filthy" – Justin Timberlake
3. "River" – Eminem feat. Ed Sheeran
4. "Tell Me You Love Me" – Demi Lovato
5. "Never Be the Same" – Camila Cabello
6. "Love" – Kendrick Lamar
7. "Him & I" – G-Eazy feat. Halsey
8. "I Miss You" – Clean Bandit feat. Julia Michaels (Debut!)
One debut tonight and a new #1 on the show!!! Didn't take long for Bruno and Cardi B to take over the top spot and knock JT down a space. Something tells me the two songs could be battling it out for #1 for a while…please remember weeknights you can help decide the outcome. Please vote from 5-7:30 p.m. CDT by either calling 217-844-HITS, texting 217-218-0288, or leave your vote at The Party's Facebook Page!