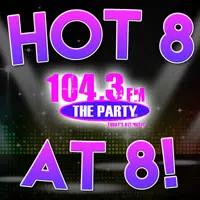 Happy Tuesday, January 23rd!!! Once more welcome back to another edition of the Hot 8@8 Countdown with Smoky's House BBQ in Charleston! Now last night an exciting start to the week for we saw a new song take over the top spot…Bruno Mars and Cardi B took their throwback sounding hit straight to the top knocking Justin Timberlake down a space. With this countdown and you having a say though, anything can happen. Check out your results tonight below….
1. "Finesse" – Bruno Mars feat. Cardi B
2. "Filthy" – Justin Timberlake
3. "Tell Me You Love Me" – Demi Lovato
4. "River" – Eminem feat. Ed Sheeran
5. "Never Be the Same" – Camila Cabello
6. "Love" – Kendrick Lamar
7. "I Miss You" – Clean Bandit feat. Julia Michaels
8. "Him & I" – G-Eazy feat. Halsey
Not to much changed tonight on the show, a few songs flipped-flopped but still no change in the #1 song. Please remember weeknights you can decide the outcome. Please be sure to vote from 5-7:30 p.m. CDT by either calling 217-844-HITS, texting 217-218-0288, or by leaving your vote at The Party's Social Media Pages!