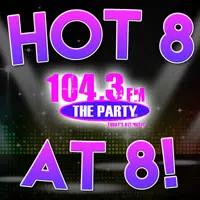 Tuesday, January 30th and welcome back to anther round of The Hot 8@8 Countdown with Smoky's House BBQ in Charleston all part of The Night Club with Carman! Now last night as we kicked off a new week, for the 6th time Bruno Mars and Cardi B took #1 with "Finesse"…will the two go a 7th straight night tonight? Check out the results below to find out…
1. "Finesse" – Bruno Mars feat. Cardi B
2. "River" – Eminem feat. Ed Sheeran
3. "Filthy" – Justin Timberlake
4. "Never be the Same" – Camila Cabello
5. "Beautiful Trauma" – Pink!
6. "Tell Me You Love Me" – Demi Lovato
7. "Lemon" – N.E.R.D feat. Rihanna
8. "Wait" – Maroon 5 (Debut!)
A new entry from Maroon 5 tonight, a move of one for Eminem and Ed, but still not enough to knock our current song from the running. A 7th night the duet partners go tonight, so once more tomorrow night cast your ballot. Simply call 217-844-HITS, text 217-218-0288, or leave your vote at The Party's Facebook Page!