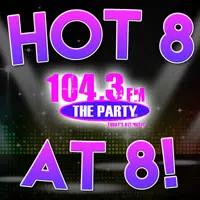 We've made it to the hump, Happy Wednesday! Welcome into The Night Club with Carman and your final Hot 8@8 Countdown with Smoky's House BBQ in Charleston for the month of January! Now so far this year, we've only seen 3 songs reach our #1 spot…"Him & I" from G-Eazy and Halsey, "Filthy" from Justin Timberlake and our current champ…"Finesse" from Bruno and Cardi B! Can the two go a solid 8 night run tonight? Check out the results….
1. "Finesse" – Bruno Mars feat. Cardi B
2. "River" – Eminem feat. Ed Sheeran
3. "Filthy" – Justin Timberlake
4. "Beautiful Trauma" – Pink
5. "Never be the Same" – Camila Cabello
6. "Tell Me You Love Me" – Demi Lovato
7. "Wait" – Maroon 5
8. "Lemon" – N.E.R.D feat. Rihanna
No new entries tonight, but for 8 nights in a row now…"Finesse" takes #1 on the show! Bruno and Cardi B are ending the month strong, but can they go the full week? Please remember weeknights you can help decide the outcome, please cast your vote! Do so Monday through Friday from 5-7:30 p.m. CDT by either calling 217-844-HITS, texting 217-218-0288, or leave your vote at The Party's Facebook Page!