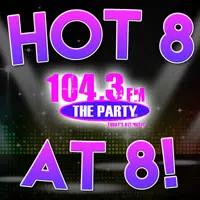 Finally FRIDAY!!! Happy Groundhog Day 2018!!! Ready or not, Phil the groundhog saw his shadow…so 6 more weeks of winter. Don't let it get  your down though, because it'll still be a fun weekend and kicking it all off is your Hot 8@8 Countdown with Smoky's House BBQ in Charleston, your final for the week of January 29th through February 2nd! Now all this week and last #1 has been all about Bruno Mars and Cardi B with "Finesse"…find out if the two can go a solid 10 night run at #1!
1. "Finesse" – Bruno Mars feat. Cardi B
2. "River" – Eminem feat. Ed Sheeran
3. "Never be the Same" – Camila Cabello
4. "Filthy" – Justin Timberlake
5. "Beautiful Trauma" – Pink
6. "Lemon" – N.E.R.D feat. Rihanna
7. "I Miss You" – Clean Bandit feat. Julia Michaels
8. "Tell Me you Love Me" – Demi Lovato
10 nights in total now for our current #1 champion! Now this week we haven't seen a whole lot of shuffling or new entries, but that could all change once the countdown resumes on Monday night. When the new week rolls around be sure to cast your vote from 5-7:30 p.m. CDT by either calling 217-844-HITS, texting 217-218-0288, or by leaving your vote at The Party's Facebook Page!