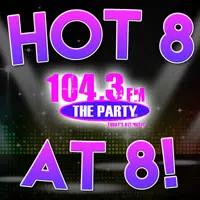 Happy Monday! Hope you had a great weekend and welcome back to another night here in The Night Club with Carman! Of course, kicking off the week is a fresh Hot 8@8 Countdown with Smoky's House BBQ in Charleston and in case you need a little refresher from where we left things on Friday night….for the 10th consecutive night…2 weeks in a row…"Finesse" from Bruno Mars and Carbi B has been our dominate force! Can they start a 3rd week off right tonight? Check out the Monday night results….
1. "Finesse" – Bruno Mars feat. Cardi B
2. "Never Be the Same" – Camila Cabello
3. "River" – Eminem feat. Ed Sheeran
4. "Filthy" – Justin Timberlake
5. "Beautiful Trauma" – Pink
6. "Lemon" – N.E.R.D feat. Rihanna
7. "Wait" – Maroon 5 (Re-Entry!)
8. "The Middle" – Zedd, Grey & Maren Morris (Debut!)
County comes onto the show! Making a debut is new Zedd & Grey with Country Star Maren Morris. Also a re-entry tonight as the brand new track from Maroon 5 makes its way back onto the show. Please remember weeknights you can help decide the outcome of the show, so please remember to vote. Do so weeknights from 5-7:30 p.m. CDT by either calling 217-844-HITS, texting 217-218-0288, or by leaving your vote at The Party's Facebook Page!