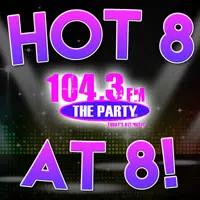 It's Throwback Thursday once more! Welcome back to the Night Club with Carman and your nightly tradition..The Hot 8@8 with Smoky's House BBQ in Charleston! Of course, given the day of the week, that means we'll have an old-school track backwards for Pop Culture Trivia, but the big question…will "Finesse" hold onto its reign? It could go a solid 14th night at #1 tonight!
1. "River" – Eminem feat. Ed Sheeran
2. "Finesse" – Bruno Mars feat. Cardi B
3. "Never Be the Same" – Camila Cabello
4. "Wait" – Maroon 5
5. "Filthy" – Justin Timberlake
6. "The Middle" – Zedd, Grey, & Maren Morris
7. "Beautiful Trauma" – Pink
8. "My, My, My" – Troye Sivan
WHAT?! A new #1!!! Bruno and Cardi B take a backseat and make room for Eminem and Ed Sheeran!!! I felt that song could go #1 at some point. If you would like to see the "E" duo take #1 for a second night, please remember to vote once more tomorrow night. Do so from 5-8 p.m. CDT by either calling 217-844-HITS, texting 217-218-0288, or leaving your vote at The Party's Facebook Page!