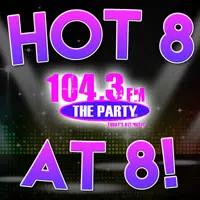 Finally Friday!!! After what feels like a long week, we've made it to the start of the weekend and kicking it off is the final Hot 8@8 Countdown with Smoky's House BBQ in Charleston for the week all part of The Night Club with Carman! Now last night we saw a brand new song take over #1…"River" from Eminem and Ed Sheeran! The two dethroned our current champ…Bruno Mars and Cardi B who went 13 nights in row. Check out to see how the songs fell tonight!
1. "River" – Eminem feat. Ed Sheeran
2. "Never Be the Same" – Camila Cabello
3. "Finesse" – Bruno Mars feat. Cardi B
4. "The Middle" – Zedd, Grey, & Maren Morris
5. "Wait" – Maroon 5
6. "Beautiful Trauma" – Pink
7. "Filthy" – Justin Timberlake
8. "My, My, My" – Troye Sivan
"River" does it again! That marks two nights for  the "E" duo. Now when the countdown resumes on Monday night, you can help decide the outcome. Cast your vote weeknights from 5-7:30 p.m. CDT by either calling 217-844-HITS, texting 217-218-0288, or by leaving your vote at The Party's Facebook Page!