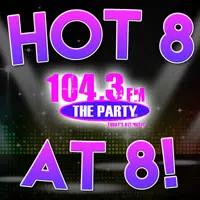 Happy Monday, February 12th! Hope you had a fantastic weekend and welcome back to another week here in The Night Club with Carman. Of course, kicking it all off will be the weeknight tradition…The Hot 8@8 Countdown with Smoky's House BBQ in Charleston! Now a little Monday night refresher from where we left things on Friday night…For the 2nd night in a row Friday, Ed Sheeran and Eminem were #1 with "River" find out if the "River" continues to flow in a steady stream for the two tonight!
1. "Never Be the Same" – Camila Cabello
2. "River" – Eminem feat. Ed Sheeran
3. "Finesse" – Bruno Mars feat. Cardi B
4. "The Middle" – Zedd, Grey, & Maren Morris
5. "Wait" – Maroon 5
6. "Pray For Me" – The Weeknd feat. Kendrick Lamar (Debut!)
7. "Beautiful Trauma" – Pink
8. "My, My, My" – Troye Sivan
New week and a new #1…Eminem and Ed fall one space and Camila Cabello takes the top spot for the first time with "Never Be the Same!" Also one to watch tonight is the high debut for The Weeknd and Kendrick Lamar! Please remember weeknights is your chance to get in your votes from 5-7:30 p.m. CDT. Please vote by either calling 217-844-HITS, texting 217-218-0288, or by leaving your vote at The Party's Facebook Page!