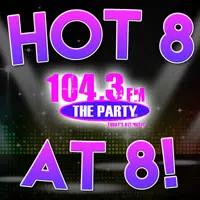 Welcome in to your Tuesday edition of The Hot 8@8 Countdown with Smoky's House BBQ in Charleston all part of The Night Club with Carman! Now last night we saw a new song take over things at #1 as we kicked off a fresh week. For the first time Camila Cabello took over our top spot with "Never Be the Same." Check out tonight's results to see if she'll go for 2 nights….
1. "Never Be the Same" – Camila Cabello
2. "Finesse" – Bruno Mars feat. Cardi B
3. "The Middle" – Zedd, Grey, & Maren Morris
4. "River" – Eminem feat. Ed Sheeran
5. "Pray for Me" – The Weeknd feat. Kendrick Lamar
6. "Wait" – Maroon 5
7. "My, My, My" – Troye Sivan
8. "Say Something" – Justin Timberlake feat. Chris Stapleton (Debut!)
JT finds himself right back on the show with Country star Chris Stapleton, also a little country on our #3 track…but for the second time it's all about the former 5th Harmony starlet…Camila Cabello, for the 2nd night in a row she takes #1 with her latest! Please remember if she stays or something else takes over…it's partly up to you. Please be sure to vote weeknights from 5-7:30 p.m. CDT by either calling 217-844-HITS, texting 217-218-0288, or by leaving your vote at The Party's Facebook Page!