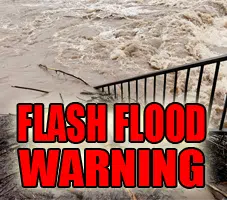 The National Weather Service in Lincoln has issued a Flash Flood Warning for the counties of Champaign, De Witt, Douglas, McLean, Moultire, Piatt, and Vermilion until 1:15 a.m Wednesday, February 21st.
At 7:15 p.m. CST, trained weather spotters reported radar indicated heavy rain across the warned area. Up to 2-3 inches of rain have already fallen. An additional inch of rain is possible.
A flash flood warning means that flooding is imminent or occurring. If you are in the warned area move to higher ground. Residents living along streams and creeks show take immediate precautions to protect life and property.