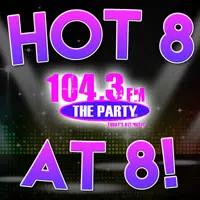 Thursday, February 22nd and tonight it's more Hot 8@8 fun as we kick off your Throwback Thursday edition with Smoky's House BBQ in Charleston! Now last night was an interesting show because we saw Camila Cabello regain her #1 ground with "Never Be the Same", she was their 5 nights then was defeated 2 nights by Zedd, Grey and Maren. What will be victorious tonight? Check out the results…..
1. "The Middle" – Zedd, Grey, & Maren Morris
2. "Say Something" – Justin Timberlake feat. Chris Stapleton
3. "Never Be the Same" – Camila Cabello
4. "Pray For Me" – The Weeknd feat. Kendrick Lamar
5. "God's Plan" – Drake
6. "My My My" – Troye Sivan
7. " Wait" – Maroon 5
8. "Beg" – Jack & Jack (Debut!)
Camila falls 2 tonight and "The Middle" reclaims it's #1 spot…marking it's reign 3 nights in total! Please remember Friday as we round out the show for the week you can help decide the outcome. Please remember to vote from 5-7:30 p.m. CDT by either calling 217-844-HITS, texting 217-218-0288, or by leaving your vote at The Party's Facebook Page!