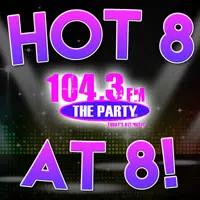 In what feels like a long week, we've finally made it to the weekend!!! Welcome to your Friday edition, the final Hot 8@8 Countdown for the week of February 19th through the 23rd with Smoky's House BBQ in Charleston! Now this week #1 has pretty much been Zedd, Grey & Maren Morris with "The Middle"…the only exception was Wednesday night when Camila Cabello regained her ground. What will be the outcome tonight? Check out the results….
1. "The Middle" – Zedd, Grey, & Maren Morris
2. "Say Something" – Justin Timberlake feat. Chris Stapleton
3. "Pray For Me" – The Weeknd feat. Kendrick Lamar
4. "Never Be the Same" – Camila Cabello
5. "God's Plan" – Drake
6. "My My My" – Troye Sivan
7. "Wait" – Maroon 5
8. "Whatever It Takes" – Imagine Dragons (Debut!)
Imagine Dragons are back on the show tonight, The Weeknd advances, but #1 is still about "The Middle" that marks a total of 4 nights now for the song! Please remember when the show resumes on Monday night, you can once more help decide the outcome. Please vote Monday through Friday from 5-7:30 p.m. CDT by either calling 217-844-HITS, texting 217-218-0288, or leaving your vote at The Party's Facebook Page!