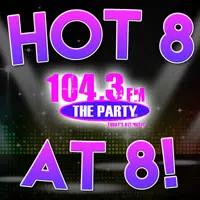 March 1st already! Welcome in to your Throwback Thursday edition of the Night Club with Carman and the Hot 8@8 Countdown with Smoky's House BBQ in Charleston! Still got a throwback tune for Pop Culture Trivia, but first we have to reveal the 8 hottest tracks you helped vote for. Now last night "Say Something" took #1 for a second time, will JT and Chris go a 3rd? Check out the results….
1. "The Middle" – Zedd, Grey, & Maren Morris
2. "Say Something" – Justin Timberlake feat. Chris Stapleton
3. "God's Plan" – Drake
4. "Pray For Me" – The Weeknd feat. Kendrick Lamar
5. "Whatever It Takes" – Imagine Dragons
6. "My My My" – Troye Sivan
7. "I Fall Apart" – Post Malone
8. "Beg" – Jack and Jack (Re-Entry!)
Just 2 nights and "The Middle" has clawed its way back to the top! The song is not down and out just yet. Also tonight newcomers Jack and Jack find themselves back on the show! Please remember when we close out the week tomorrow night you can help decide where the songs fall. Please be sure to cast your vote from 5-7:30 p.m. CDT by either calling 217-844-HITS, texting 217-218-0288, or by leaving your vote at The Party's Facebook Page!