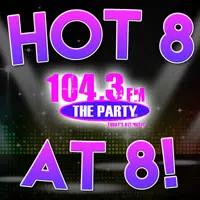 Happy Monday, March 5th! Welcome in to the Night Club with Carman and your first of the week…The Hot 8@8 Countdown with Smoky's House BBQ in Charleston! A little refresher from where we left things on Friday night…while not consecutive, for the 7th time "The Middle" from Zedd, Grey and Maren Morris took the top spot….check out your Monday results to see if they can go an 8th….
1. "Say Something" – Justin Timberlake feat. Chris Stapleton
2. "God's Plan" – Drake
3. "Pray For Me" – The Weeknd feat. Kendrick Lamar
4. "The Middle" – Zedd, Grey, & Maren Morris
5. "Whatever It Takes" – Imagine Dragons
6. "I Fall Apart" – Post Malone
7. "My My My" – Troye Sivan
8. "Beg" – Jack and Jack
No new entries as we kick off Monday night, however Justin and Chris have reclaimed the #1 spot. Last week "Say Something" spent two nights #1…tonight they're back at it. Please remember weeknights you can help determine the outcome. Simply cast your ballot from 5-7:30 p.m. CDT by either calling 217-844-HITS, texting 217-218-0288, or by leaving your vote at The Party's Facebook Page!