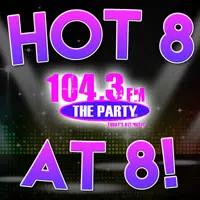 Happy Tuesday March 6th! Welcome back to The Night Club with Carman and another round of The Hot 8@8 Countdown with Smoky's House BBQ in Charleston! Last night as we kicked off a new week, we saw Justin Timberlake & Chris Stapleton retake over the #1 spot with "Say Something"…last week the two spent two nights before being defeated. Can the 2 go another night at the top? Find out below….
1. "Say Something" – Justin Timberlake feat. Chris Stapleton
2. "God's Plan" – Drake
3. "Pray For Me" – The Weeknd feat. Kendrick Lamar
4. "Whatever It Takes" – Imagine Dragons
5. "I Fall Apart" – Post Malone
6. "The Middle" – Zedd, Grey & Maren Morris
7. "My My My" – Troye Sivan
8. "Friends" – Marshmellow feat. Anne Marie (Debut!)
One new entry tonight, but it's still about JT and Chris at #1! Please remember weeknights you can help decide what makes the cut by casting your vote. Please do so Monday through Friday from 5-7:30 p.m. CDT by either calling 217-844-HITS, texting 217-218-0288, or by leaving your vote at The Party's Facebook Page!