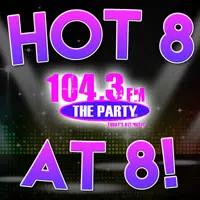 Finally Friday!!! After what seems like a long week, we're finally reaching the weekend and getting things started is the final Hot 8@8 Countdown for the week of March 5th through the 9th with Smoky's House BBQ in Charleston and all part of The Night Club with Carman! Now last nights we saw a new song reach #1…"God's Plan" from Drake. Check out the results below to see if Drake can go a 2nd time at the top….
1. "God's Plan" – Drake
2. "Whatever It Takes" – Imagine Dragons
3. "Say Something" – Justin Timberlake feat. Chris Stapleton
4. "I Fall Apart" – Post Malone
5. "Beg" – Jack and Jack
6. "Pray For Me" – The Weeknd feat. Kendrick Lamar
7. "Friends" – Marshmellow & Anne Marie
8. "My My My" – Troye Sivan
No new entries closing out the week, but Drake holds on once more and will end the week strong! Please remember when the countdown resumes on Monday night you can help decide the outcome. Please cast your vote weeknights from 5-7:30 p.m. CDT by either calling 217-844-HITS, texting 217-218-0288, or by leaving your vote at The Party's Social Media Pages!