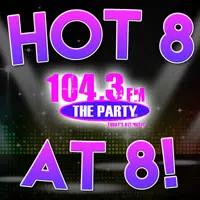 Finally Friday!!!! Happy March 16th and welcome back to The Night Club with Carman. As we kick off the St. Patrick's Day Weekend, we're going to start things off with your weeknight tradition here in the Night Club…The Hot 8@8 Countdown with Smoky's House BBQ in Charleston, the final show for the week of March 12th through the 16th! Now this week, it's been about Imagine Dragons as "Whatever It Takes" has been dominate at our #1 spot for the past 3 nights….check out tonight's results and see if they can go 4 nights and close the week strong….
1. "Whatever It Takes" – Imagine Dragons
2. "God's Plan" – Drake
3. "Friends" – Marshmellow & Anne Marie
4. "No Excuses" – Meghan Trainor
5. "Beg" – Jack and Jack
6. "My My My" – Troye Sivan
7. "No Roots" – Alice Merton
8. "Trust Fund Baby" – Why Don't We (Re-Entry!)
Why Don't We has re-entered the show, but our top song is still bout the Dragons. Please remember when the show resumes on Monday night, you can once more cast your vote. Do so weeknights from 5-7:30 p.m. CDT by either calling 217-844-HITS, texting 217-218-0288, or by leaving your vote at The Party's Facebook Page!
Remember tomorrow, where green, and have a safe, fun and Happy St. Patrick's Day!!! 🙂