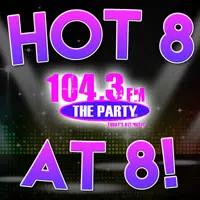 Happy Throwback Thursday, March 22nd! Welcome back to another night of The Night Club with Carman and another round of The Hot 8@8 Countdown with Smoky's House BBQ in Charleston! Of course being Thursday, an old school track will be spun backwards for Pop Culture Trivia, but before we get there we got to count down some of the hottest new tracks. Last night "Friends" from Marshmellow and Anne Marie took the top spot for a 3rd time…see if they can go a 4th tonight….
1. "Friends" – Marshmellow feat. Anne Marie
2. "No Excuses" – Meghan Trainor
3. "All the Stars" – Kendrick Lamar feat. SZA
4. "Want You Back" – 5 Seconds of Summer
5. "Whatever It Takes" – Imagine Dragons
6. "No Roots" – Alice Merton
7. "On the Loose" – Niall Horan
8. "Mine" – Bazzi
No new entries tonight, but a big jump of 2 for Kendrick and SZA and 4th night at #1 now for Marshmellow and Anne! If you would like to see the duo go a solid week at the top, please remember tomorrow night you can cast your vote once more. Do so from 5-7:30 p.m. CDT by either calling 217-844-HITS, texting 217-218-0288, or by leaving your vote at The Party's Facebook Page!