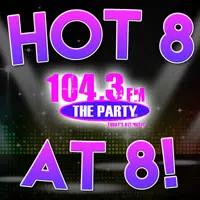 Happy Tuesday, March 27th! 5 days left until Easter and here in the Night Club with Carman it's time for another round of The Hot 8@8 Countdown with Smoky's House BBQ in Charleston! Now last night as we kicked off a fresh week, we saw a new entry plus a new song overtaking the #1 spot…Meghan Trainor with "No Excuses." Trainor knocked "Friends" down a space, so check out tonight's results to see if she can go a 2nd night.
1. "No Excuses" – Meghan Trainor
2. "Friends" – Marshmellow feat. Anne Marie
3. "All the Stars" – Kendrick Lamar feat. SZA
4. "Want You Back" – 5 Seconds of Summer
5. "Mine" – Bazzi
6. "On the Loose" – Niall Horan
7. "Delicate" – Taylor Swift (Debut!)
8. "Psycho" – Post Malone feat. Ty Dolla $ign
Taylor is back on the show tonight, but #1 is still about Meghan! That marks 2 nights in a row now for her new single. Please remember, weeknights you have a say in helping decide where the songs fall on the countdown. Please be sure to cast your vote weeknights from 5-7:30 p.m. CDT by either calling 217-844-HITS, texting 217-218-0288, or by leaving your vote at The Party's Facebook Page!