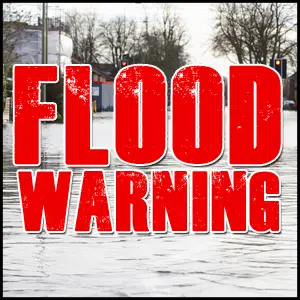 The National Weather Service has issued a Flood Warning in effect for the following rivers and streams in Indiana:
Big Walnut Creek…Driftwood River…East Fork White River…Eel River…Muscatatuck River…Wabash River…White River…Youngs Creek…
Extensive river flooding will be develop in southern Indiana by the weekend and continue into the first week of April. Significant flooding will occur in a few areas. Flood crests will be a few feet lower than those of late February and early March. The worst flooding will be along the White…East Fork White and the Wabash Rivers in the Mount Carmel and New Harmony areas.
Lesser flooding will occur along the Wabash River in western Indiana and the White River in central Indiana. Rivers will approach and/or crest a few feet above flood stage.
Three fourths to over two inches of rain has fallen from late Monday night through early Wednesday afternoon in much of central and southern Indiana. The heaviest rain fell in western Indiana. An additional 1 to 2 inches will fall in southern Indiana on Thursday.
Early Wednesday afternoon rivers were at bankfull levels and rising in western…central and southern Indiana. Small streams were near crests in most areas.
Precautionary/Preparedness Actions… Motorists should never drive into flood water. Turn around and go another way. Keep children away from flooded areas. Recreational and agricultural interests should remain alert to changing river conditions. For detailed flood information go to weather.gov/ind on the web and click on rivers and lakes.
The Flood Warning continues for The Wabash River at Montezuma. * until Wednesday April 04. * At 10:45 AM Wednesday the stage was 17.5 feet. * Flood stage is 14.0 feet. * Minor flooding is occurring and Minor flooding is forecast. * Forecast…The river will rise to near 17.7 feet by this evening then begin falling. The river will fall below flood stage Tuesday early afternoon. * At 18.0 feet…Montezuma agricultural levee is overtopped. Fourteen hundred acres of low bottomlands flood.