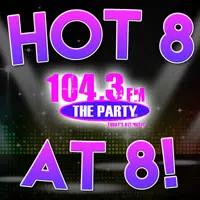 Happy Thursday, March 29th! Another rainy evening as kick off The Hot 8@8 Countdown with Smoky's House BBQ in Charleston…your "Throwback Thursday" edition here in The Night Club with Carman. Of course we'll have a song backwards for Pop Culture Trivia, but first we gotta count em' down. Now this week, we've seen a couple new entries from Post Malone and Taylor Swift, but #1 is all about Meghan Trainor with "No Excuses." Find out below if she can go a 4th night in a row….
1. "No Excuses" – Meghan Trainor
2. "All the Stars" – Kendrick Lamar feat. SZA
3. "Want You Back" – 5 Seconds of Summer
4. "Friends" – Marshmellow feat. Anne Marie
5. "On the Loose" – Niall Horan
6. "Delicate" – Taylor Swift
7. "Mine" – Bazzi
8. "Psycho" – Post Malone feat. Ty Dolla $ign
A few songs make a shuffle, but #1 is still in tact. Meghan is close to going a strait week at the top, if that happens please remember you can help decide the final say. Remember to cast your vote once more tomorrow night by either calling 217-218-0288, texting 217-218-0288, or by leaving your vote at The Party's Facebook Page!