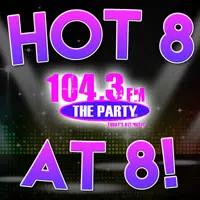 Finally Friday and after a long week, we're rain free as we kick off the Eater Weekend!!! Welcome back to The Night Club with Carman and the final Hot 8@8 Countdown for the week of March 26th through 30th with Smoky's House BBQ in Charleston! So far this week, we've seen two new entries and fairly dominate run by Meghan Trainor as "No Excuses" has taken our top spot for the past 4 nights. Check out below if she goes a 5th night…..
1. "No Excuses" – Meghan Trainor
2. "All the Stars" – Kendrick Lamar feat. SZA
3. "Want You Back" – 5 Seconds of Summer
4. "On the Loose" – Niall Horan
5. "Delicate" – Taylor Swift
6. "Mine" – Bazzi
7. "Psycho" – Post Malone feat. Ty Dolla $ign
8. "IDGAF" – Dua Lipa (Debut!)
Dua Lipa is back on the show tonight, and Meghan goes a solid week at #1…5 consecutive nights!!! Please remember, when the countdown resumes on Monday night, you can help decide the outcome. Please be sure to cast your vote Monday through Friday by simply calling 217-844-HITS, texting 217-218-0288, or by leaving your vote at The Party's Facebook Page!
Have a Happy Easter Weekend, may the Easter Bunny bring you your favorite Eater Candy! 🙂