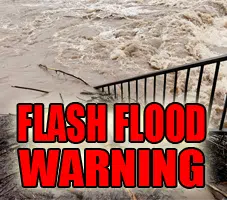 The National Weather Service in Indianapolis has extended the  Flash Flood Warning for…
Southeastern Vigo County in west central Indiana…
Central Clay County in west central Indiana…
Northern Owen County in west central Indiana…
* Until 315 PM EDT
* At 1150 AM EDT, thunderstorms and heavy rain had shifted north of the warning area. However…additional rain and thunderstorms will  develop into the afternoon. 3 to 5 inches of rain have already fallen. Flash flooding is already occurring and will continue.
* Some locations that will experience flooding include…Prairieton, Gosport, Center Point, Riley, Patricksburg, Cory, Saline City, Bowling Green, Quincy, Pimento and Devore.
PRECAUTIONARY/PREPAREDNESS ACTIONS… Turn around, don`t drown when encountering flooded roads. Most flood deaths occur in vehicles.
In hilly terrain there are hundreds of low water crossings which are potentially dangerous in heavy rain. Do not attempt to cross flooded roads. Find an alternate route.
A Flash Flood Warning means that flooding is imminent or occurring.  If you are in the warned area move to higher ground immediately.  Residents living along streams and creeks should take immediate precautions to protect life and property.