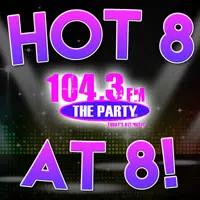 Happy Hump Day!!! Wednesday, April 4th and welcome back to another "mid-point" edition of the Hot 8@8 Countdown with Smoky's House BBQ in Charleston all part of The Night Club with Carman! The past 2 nights on the show "All the Stars" from Kendrick and SZA has been our top song…find out below if you helped them go a 3rd below!
1. "All the Stars" – Kendrick Lamar feat. SZA
2. "Delicate" – Taylor Swift
3. "On the Loose" – Niall Horan
4. "IDGAF" – Dua Lipa
5. "No Excuses" – Meghan Trainor
6. "In My Blood" – Shawn Mendes
7. "Psycho" – Post Malone feat. Ty Dolla $ign
8. "Want You Back" – 5 Seconds of Summer
While no new entries tonight, Mendes, Dua, Niall, and Taylor are all songs to watch and could give "All the Stars" a run for its money, which tonight tops the show for a 3rd night in a row! Please remember weeknights you have a say and can help the songs reach the Hot 8@8. Please cast a quick vote weeknights from 5-7:30 p.m. CDT by either calling 217-844-HITS, texting 217-218-0288, or by leaving your vote at The Party's Facebook Page!