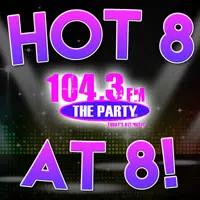 Finally Friday!!! Welcome back into the Night Club with Carman and your final Hot 8@8 Countdown with Smoky's House BBQ in Charleston for the week of April 2nd through the 6th! Now so far this week 2 songs have seen the #1 spot…"All the Stars" from Kendrick and SZA and as of last night…"Delicate" from Taylor Swift. Which one will take the top spot to end the week? Check out the results below!
1. "Delicate" – Taylor Swift
2. "On the Loose" – Niall Horan
3. "IDGAF" – Dua Lipa
4. "All the Stars" – Kendrick Lamar feat. SZA
5. "In My Blood" – Shawn Mendes
6. "Alone" – Halsey feat. Big Sean & Stefflon Don
7. "No Excuses" – Meghan Trainor
8. "Psycho" – Post Malone feat. Ty Dolla $ign (Re-Entry!)
After one night away from the show Post Malone re-enters the show, Dua Lipa advances to our top 3 and for a second night in a row "Delicate" from Swift tops the show! She ends the week strong, but if she starts next week off just as strong, please remember you can help decide the outcome. Please cast your vote when the show resumes on Monday night from 5-7:30 p.m. CDT by either calling 217-844-HITS, texting 217-218-0288, or by leaving your vote at The Party's Facebook Page!