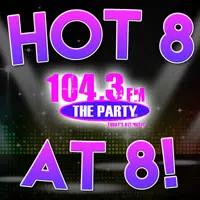 Happy Tuesday, April 10th and welcome back to another night of The Night Club with Carman! Of course what's a night club without the Hot 8@8 Countdown with Smoky's House BBQ in Charleston? Well that's what we're about to countdown right now and find out what your votes helped decide. Now last night Taylor Swift started the week strong with "Delicate" taking #1. Can she go 4th night in total with her latest? Find out the results below!
1. "On the Loose" – Niall Horan
2. "Delicate" – Taylor Swift
3. "In My Blood" – Shawn Mendes
4. "IDGAF" – Dua Lipa
5. "All the Stars" – Kendrick Lamar feat. SZA
6. "Psycho" – Post Malone feat. Ty Dolla $ign
7. "Everyday" – Logic feat. Marshmellow
8. "Alone" – Halsey feat. Big Sean & Stefflon Don
No new entries tonight, but we have a new song at #1!!! Niall Horan has dethroned Swift and taken over the top spot with his latest! Please remember, weeknights you can help decide how the outcome plays out. Please be sure to cast your vote from 5-7:30 p.m. CDT by either calling 217-844-HITS, texting 217-218-0288, or by leaving your vote at The Party's Facebook Page!