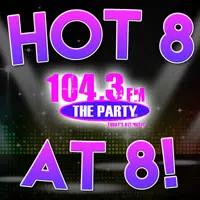 Happy Monday, April 16th! Hope you had a fantastic weekend and welcome back into the Night Club with Carman! Of course we have to get things started with The Hot 8@8 Countdown with Smoky's House BBQ in Charleston and a little refresher from where we left things on Friday night…for the 1st time Shawn Mendes took "In My Blood" to #1. He ended the week strong, but can he start the new week off just as strong? Find out the results below!
1. "In My Blood" – Shawn Mendes
2. "IDGAF" – Dua Lipa
3. "Delicate" – Taylor Swift
4. "On the Loose" – Niall Horan
5. "Alone" – Halsey feat. Big Sean & Stefflon Don
6. "Psycho" – Post Malone feat. Ty Dolla $ign
7. "Everyday" – Logic feat. Marshmellow
8. "Done For Me" – Charlie Puth feat. Kehlani (Debut!)
One new entry tonight from Charlie Puth and Kehlani, but #1 stays the same! For a second time Mendes takes the top spot! Please remember Monday through Friday vote. Do so from 5-7:30 p.m. CDT by either calling 217-844-HITS, texting 217-218-0288, or by leaving your vote at The Party's Facebook Page!