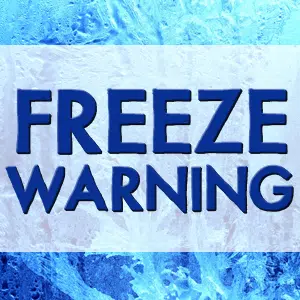 The National Weather Service in Lincoln has issued a Freeze Warning, which is in effect from 1 AM to 8 AM CDT Friday for Cumberland-Clark-Effingham-Jasper-Crawford-Clay-Richland-Lawrence and Fayette counties.
TEMPERATURE…Temperatures expected to cool to 28 to 32 degrees late tonight across southeast Illinois.
IMPACTS…Freezing conditions may damage or kill sensitive plants and some newly sprouted trees, if left unprotected.
PRECAUTIONARY/PREPAREDNESS ACTIONS… A Freeze Warning means sub-freezing temperatures are imminent or highly likely. These conditions will kill  sensitive vegetation that is not taken inside or covered.