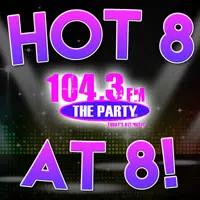 Finally Friday!!! Welcome back to The Night Club with Carman and your final edition of the Hot 8@8 Countdown with Smoky's House BBQ in Charleston for the week of April 16th through the 20th! Now this week we've seen new entries from artists like Foster the People and Chainsmokers, but #1 is all about Shawn Mendes with "In My Blood." That has been #1 for the past 5 nights, can he go a 6th and end the week strong? Find out tonight's results below!
1. "In My Blood" – Shawn Mendes
2. "IDGAF" – Dua Lipa
3. "Alone" – Halsey feat. Big Sean & Stefflon Don
4. "Psycho" – Post Malone feat. Ty Dolla $ign
5. "Done For Me" – Charlie Puth feat. Kehlani
6. "Sit Next to Me" – Foster the People
7. "Everybody Hates Me" – Chainsmokers
8. "Everyday" – Logic feat. Marshmellow (Re-Entry!)
Logic is back after 2 nights off the countdown but #1 is still all about Mendes! That marks a 6th night in a row now for the song's dominance! Please remember, every weeknight you can help decide the outcome of the countdown. When the show resumes on Monday night vote from 5-7:30 p.m. CDT by either calling 217-844-HITS, texting 217-218-0288, or by leaving your vote at The Party's Facebook Page!