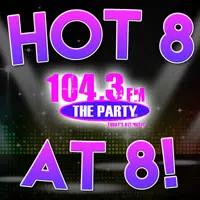 Happy Throwback Thursday! Welcome back to the Night Club with Carman and another go of the Hot 8@8 Countdown with Smoky's House BBQ in Charleston! Now given the day of the week, an old-school track will be spun backwards for your chance at Pop Culture Trivia, but first we have to reveal the 8 hottest songs of the night! Last night for a 9th time…Shawn Mendes took #1 with "In My Blood". He's on a roll but Dua Lipa and Halsey are hot on his heels…find out what you helped decide tonight!
1. "Alone" – Halsey feat. Big Sean & Stefflon Don
2. "In My Blood" – Shawn Mendes
3. "IDGAF" – Dua Lipa
4. "Sit Next To Me" – Foster the People
5. "Done For Me" – Charlie Puth feat. Kehlani
6. "Everybody Hates Me" – Chainsmokers
7. "One Kiss" – Calvin Harris feat. Dua Lipa
8. "No Tears Left to Cry" – Ariana Grande (Debut!)
Ariana Grande is making a splash back onto the show tonight and Halsey has taken over the top spot! After a couple weeks inside the top 3, "Alone" has managed to overtake the top spot! If Halsey ends the week strong tomorrow, please remember you can help decide the outcome. Please vote once more tomorrow from 5-7:30 p.m. CDT by either calling 217-844-HITS, texting 217-218-0288, or leaving your vote at The Party's Facebook Page!