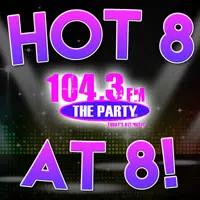 Happy Monday, new week and the last day of April! Welcome back to The Night Club with Carman and another round of The Hot 8@8 Countdown with Smoky's House BBQ in Charleston! For your Monday night refresher…Friday night we saw Shawn Mendes take the top spot for a 10th time with "In My Blood." While not 10 consecutive nights…last Thursday "Alone" from Halsey took things over…he still could start another week strong. Check out Monday night results below!
1. "In My Blood" – Shawn Mendes
2. "Done For Me" – Charlie Puth feat. Kehlani
3. "Alone" – Halsey feat. Big Sean & Stefflon Don
4. "One Kiss" – Calvin Harris feat. Dua Lipa
5. "No Tears Left to Cry" – Ariana Grande
6. "Sit Next to Me" – Foster the People
7. "IDGAF" – Dua Lipa
8. "Love Lies" – Khalid feat. Normani (Debut!)
Khalid is back on the show tonight with Normani, Ariana Grande makes a big leap, however the top song is still Mendes, which marks a grand total of 11 nights at #1 now. As we kick off May tomorrow night, once more please cast your vote. Do so from 5-7:30 p.m. CDT by either calling 217-844-HITS, texting 217-218-0288, or by leaving your vote at The Party's Facebook Page!