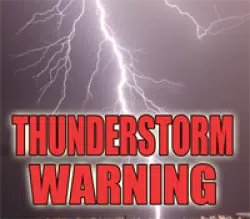 The National Weather Service has issued a Severe Thunderstorm Warning for…  Southeastern Coles County, Northwestern Clark County, Southeastern Shelby County and all of Cumberland County until 7:15 a.m.
At 622 AM CDT, a severe thunderstorm was located near Montrose, or  8 miles northeast of Effingham, moving northeast at 40 mph.
HAZARD…60 mph wind gusts.
SOURCE…Radar indicated.
IMPACT…Expect damage to roofs, siding, and trees. * Locations impacted include…  Charleston, Toledo, Casey, Neoga, Greenup, Martinsville, Ashmore,  Westfield, Jewett, Montrose, Janesville, Hutton, Woodbury, Sigel,  Fox Ridge State Park, Lincoln Trail State Park, Union Center and  Trilla. This includes the following highways… Interstate 57 between mile markers 169 and 177. Interstate 70 between mile markers 105 and 142.