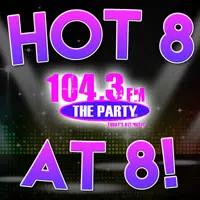 Finally FRIDAY!!!! Starting your weekend is another, & your final show for the week of May 7th through the 11th of The Hot 8@8 Countdown with Smoky's House BBQ in Charleston all part of The Night Club with Carman! Now this week only one song has reached the top spot…"No Tears Left to Cry" from Ariana Grande. See below to see if show can go the "five-peat" and end the week strong.
1. "No Tears Left to Cry" – Ariana Grande
2. "One Kiss" – Calvin Harris feat. Dua Lipa
3. "Let Me" – Zayn
4. "Done for Me" – Charlie Puth feat. Kehlani
5. "Sit Next to Me" – Foster the People
6. "Sober Up" – AJR feat. Rivers Cuomo
7. "Love Lies" – Khalid feat. Normani
8. "In My Blood" – Shawn Mendes
This whole week, there was only one new entry total.."Sober Up" from AJR, they jump to 6 tonight, however the top song remains undefeated! Please remember when the show resumes on Monday night, you can once again have your say. Cast a ballot Monday through Friday from 5-7:30 p.m. CDT by either calling 217-844-HITS, texting 217-218-0288, or by leaving your vote at The Party's Facebook Page!