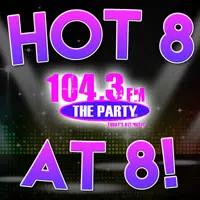 It's Taco Tuesday! Rickie from the Weekends here taking over the Hot 8@8 Countdown with Smoky's House BBQ in Charleston for tonight! Mriday night for a 6th time, Ariana Grande took the top spot with "No Tears Left to Cry." See below if the tears will roll, as she could have gotten defeated. Here's Tuesday's Results:
1. "No Tears Left to Cry" – Ariana Grande
2. "Done for Me" – Charlie Puth feat. Kehlani
3. "One Kiss" – Calvin Harris feat. Dua Lipa
4. "Sober Up" – AJR feat. Rivers Cuomo
5. "Let Me" – Zayn
6. "Love Lies" – Khalid feat. Normani
7. "Sit Next to Me" – Foster the People
8. "These Days" – Rudimental feat. Jess Glynn, Macklemore, & Dan Caplen (Debut!)
That's your Tuesday! Quite a few swap arounds tonight,  6&7,  4&5,  and even 3&2 in our top spots. Ariana Grande crushes it, remanining undefeated as she goes a 7th night in a row at the top! Please remember weeknights you have a say in how the songs shape out. Please cast your vote once more tomorrow 5-7:30 p.m. CDT by either calling 217-844-HITS, texting 217-218-0288, or by leaving your vote at The Party's Facebook Page!