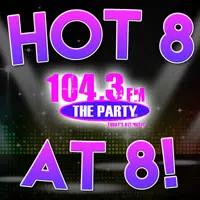 Wednesday, May 16th and it's your mid-point Hot 8@8 Countdown for the week with Smoky's House BBQ in Charleston all part of The Night Club with Carman! Now last night Grande proved unbeatable yet again for "No Tears Left to Cry" took the top spot for a 7th consecutive time. See below to see if she goes an 8th below!
1. "No Tears Left to Cry" – Ariana Grande
2. "Done for Me" – Charlie Puth feat. Kehlani
3. "One Kiss" – Calvin Harris feat. Dua Lipa
4. "Let Me" – Zayn
5. "Sober Up" – AJR feat. Rivers Cuomo
6. "Love Lies" – Khalid feat. Normani
7. "These Days" – Rudimental feat. Jess Glynn, Macklemore & Dan Caplan
8. "Tattoo (How Bout You) – In Real Life (Debut!)
One new entry tonight, a few songs doing some flip-flopping with one another, but the top 3 consistent with last night's show. That marks 8 nights now for Grande's #1 reign. Please remember weeknights you can cast your vote from 5-7:30 p.m. CDT by either calling 217-844-HITS, texting 217-218-0288, or by leaving your vote at The Party's Facebook Page!