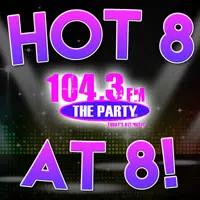 It's Wednesday! Already at the half point of our work week, and a bit of a mix-up for the countdown tonight!  Rickie here is filling in for Carman tonight on the night club,  lets see the results and where your votes landed the artists on tonight's countdown with Smoky's House of BBQ!
1. "Sober Up" – AJR feat. Rivers Cuomo
2. "Nice for What" – Drake
3. "Back to You" – Selena Gomez
4. "No Tears Left to Cry" – Ariana Grande
5. "Love Lies" – Khalid feat. Normani
6. "These Days" – Rudimental feat. Jess Glynn, Macklemore & Dan Caplan
7.  "Let Me" – Zayn
8. "Familiar" –  Liam Payne feat. J Balvin
A new challenger enters the countdown!  "Familar" making its debut tonight, few songs move around in rankings, Selena Gomez moves to the number 3 spot, and AJR and Rivers stay in the number one spot for the 2nd day in a row!   Cast your vote tomorrow to help the brother trio continue their trip to the top! Please cast votes weeknights from 5-7:30 p.m. CDT by either calling 217-844-HITS, texting 217-218-0288, or by leaving your vote at The Party's Facebook Page!