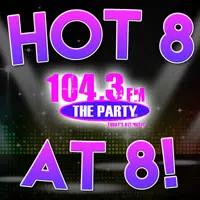 Happy Throwback Thursday!!! Carman back in with ya tonight for the Hot 8@8 Countdown with Smoky's House BBQ in Charleston and again, it's a Throwback Thursday edition of the show with Pop Culture Trivia. Now last night Ricky took things over, and we had one new entry from Liam Payne with J Balvin and for a second time AJR with Rivers Cuomo took #1 with "Sober UP." See below to see what you helped decide tonight…the final show for May!
1. "Nice For What" – Drake
2. "Back to You" – Selena Gomez
3. "Sober Up" – AJR feat. Rivers Cuomo
4. "Love Lies" – Khalid feat. Normani
5. "These Days" – Rudimental feat. Jess Glynn, Macklemore & Dan Caplan
6. "No Tears Left to Cry" – Ariana Grande
7. "Familiar" – Liam Payne feat. J Balvin
8. "Let Me" – Zayn
No new entries, but just after 2 nights AJR already falls 2 spaces…and our new #1 is Drake! He will end May at #1…but if he ends the week and goes a 2nd night tomorrow..please remember to vote once more tomorrow from 5-7:30 p.m. CDT. Do so by either calling 217-844-HITS, texting 217-218-0288, or by leaving your vote at The Party's Facebook Page!