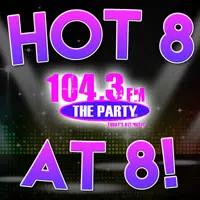 Finally Friday!!! It's the end of the week and welcome back to the final edition of The Hot 8@8 Countdown for the week of June 4th through the 8th with Smoky's House BBQ in Charleston all part of The Night Club with Carman! Now this week we've seen two different songs make it to the #1 spot…"Nice for What" from Drake and our current champ "Back to You" from Selena Goemz. Each have 2 nights this week as of now, see which one comes out on top tonight….
1. "Back To You" – Selena Gomez
2. "Nice For What" – Drake
3. "Let Me" – Zayn
4. "Familiar" – Liam Payne feat. J. Balvin
5. "Move to Miami" – Enrique Iglesias feat. Pitbull
6. "Don't Go Breaking My Heart" – Backstreet Boys
7. "Love Lies" – Khalid feat. Normani
8. "These Days" – Rudimental feat. Jess Glynn, Macklemore & Dan Caplan
Selena does it! She'll close the week out strong for a 3rd consecutive time on the countdown! Please remember when the show resumes on Monday night you have a say in how the songs shape out. Please remember to cast your ballot from 5-7:30 p.m. CDT by either calling 217-844-HITS, texting 217-218-0288, or by leaving your vote at The Party's Facebook Page!