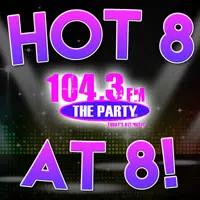 Happy Hump Day! Wednesday again, June 20th and officially the last day of Spring. Welcome back to The Night Club with Carman and another round of the Hot 8@8…your "mid-point" edition of the week with Smoky's House BBQ in Charleston! Now last night not too much changed from Monday's show, however, we did see one new entry from Jennifer Lopez. Check out what you helped decide tonight….
1. "Nice For What" – Drake
2. "Back to You" – Selena Gomez
3. "Don't Go Breaking My Heart" – Backstreet Boys
4. "Girls Like You" – Maroon 5 feat. Cardi B
5. "Better Now" – Post Malone
6. "I Like It" – Cardi B
7. "Familiar" – Liam Payne feat. J. Balvin
8. "Dinero" – Jennifer Lopez feat. DJ Khaled & Cardi B
No new entries tonight, a little bit of shuffling with our top 5, but #1 is still the same. Drake takes it again with "Nice for What" which marks a 7th time total now. Please remember weeknights you can help decide the outcome, simply vote Monday through Friday from 5-7:30 p.m. CDT by either calling 217-844-HITS, texting 217-218-0288, or by leaving your vote at The Party's Facebook Page!