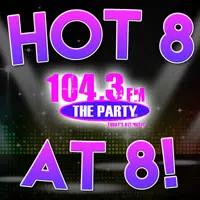 It's your Friday to kick off the weekend Hot 8@8 Countdown with Smoky's House BBQ in Charleston, all part of The Night Club!  Rickie from the Weekends here hosting tonight in for Carman.  Last night, we saw a new entry from 5 Seconds of Summer and Drake for a 8th time in total was the dominate force on the show with "Nice For What."  Did Drake stay at the top to finish of the week,  or did someone else knock him down! Here are the results!
1. "Nice For What' – Drake
2. "Girls Like You" – Maroon 5 feat. Cardi B
3. "Back to You" – Selena Gomez
4. "Better Now" – Post Malone
5. "I Like It" – Cardi B
6. "Don't Go Breaking My Heart" – Backstreet Boys
7. "Young Blood" – 5 Seconds of Summer (Debut!)
8. "Growing Pains" – Alessia Cara
Alessia Cara makes it into the ring with the release of her new music video! Drake slays it at the top, king for the entire week!  Please remember weeknights you have a say in how the countdown shapes out. Please cast your votes from 5-7:30 p.m. CDT by either calling 217-844-HITS, texting 217-218-0288, or by leaving your vote at The Party's Facebook Page! We'll see you Monday!