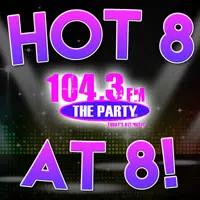 Happy Hump Day, Wednesday, June 27th! Carman back at it tonight for the Night Club! Big thanks to Ricky and CiCi you took over The Hot 8@8 with Smoky's House BBQ while I was on Vacation, and based on their results, a lot of shake-ups happened the past few nights. We saw some new entries from Alessia Cara and BTS, plus last night…a new song at #1! It was Maroon 5 and Cardi B with "Girls Like You" see below to see if they can go 2 nights….
1. "Girls Like You" – Maroon 5 feat. Cardi B
2. "Back to You" – Selena Gomez
3. "I Like It" – Cardi B
4. "Better Now" – Post Malone
5. "Young Blood" – 5 Seconds of Summer
6. "Nice For What" – Drake
7. "Growing Pains" – Alessia Cara
8. "Fake Love" – BTS
For a second time, "Girls Like You" takes our top spot, which also marks 2 entries from Cardi B just inside the top 3 alone! Please remember weeknights you can help determine the results of the Hot 8@8 by simply casting your ballots. Do so weeknights from 5-7:30 p.m. CDT by either calling 217-844-HITS, texting 217-218-0288, or by leaving your vote at The Party's Facebook Page!