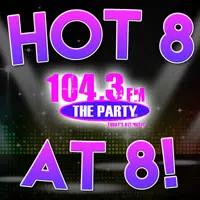 Happy Tuesday, July 3rd! One more day left to go until the big 4th of July Celebration, but tonight were celebrating your votes all part of the Hot 8@8 Countdown with Smoky's House BBQ in Charleston all part of The Night Club with Carman! Last night, "I Like It" from Cardi B took over the #1 spot for the first time, will she do it again tonight? Check out the results below….
1. "I Like It" – Cardi B
2. "Better Now" – Post Malone
3. "Girls Like You" – Maroon 5 feat. Cardi B
4. "Young Blood" – 5 Seconds of Summer
5. "Growing Pains" – Alessia Cara
6. "Dinero" – Jennifer Lopez feat. DJ Khaled & Cardi B
7. "Home With You" – Madison Beer
8. "Fake Love" – BTS
No new entries tonight and a lot of consistency, but #1 is still about Cardi B. That marks 2 nights now for the track. Please keep in mind, the show will take a brief departure tomorrow in celebration of the 4th of July, but when the show resumes on Thursday night, please remember to cast your ballots once more. Do so from 5-7:30 p.m. CDT by either calling 217-844-HITS, texting 217-218-0288, or by leaving your vote at The Party's Facebook Page!
Have a Safe and Happy 4th of July!!!