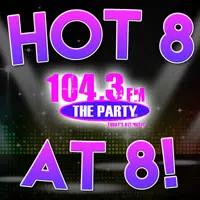 Finally Friday, Friday the 13th! Hopefully luck has been on your side tonight, and we'll see if luck is on the side of some of your favorite new songs all part of The Hot 8@8 with Smoky's House BBQ in Charleston! Carman back with ya as we round out the week and this week we've seen 2 different songs at the #1 spot…Monday and Tuesday it was "Better Now" from Post Malone, but since Wednesday its been "Young Blood." See which one comes out on top tonight below….
1. "Young Blood" – 5 Seconds of Summer
2. "Better Now" – Post Malone
3. "I Like It" – Cardi B
4. "Dinero" – Jennifer Lopez feat. DJ Khaled & Cardi B
5. "Let You Be Right" – Meghan Trainor
6. "Bed" – Nicki Minaj feat. Ariana Grande
7. "Drew Barrymore" – Bryce Vine (Re-Entry!)
8. "Remind to Forget" – Kygo feat. Miguel
Bryce Vine makes his way back onto the show tonight, after one night of falling off the show, but #1 is still about 5 Seconds of Summer! They'll end the week strong, but if you want to keep them there when the show resumes on Monday night…please be sure to cast your ballot once more. Voting runs Monday through Friday from 5-7:30 p.m. CDT. Vote by either calling 217-844-HITS, texting 217-218-0288, or by leaving your vote at The Party's Facebook Page!